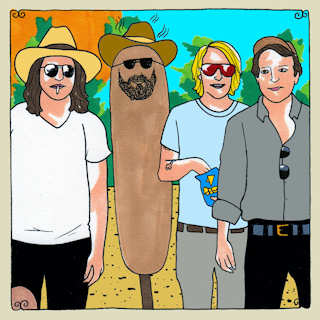 Given numerous performances on Daytrotter from the bands that make up Middle Brother—Deer Tick, Delta Spirit, and Dawes—it's not surprising that they finally have a session on the site. In fact, Middle Brother's Daytrotter release approximately bookends their birth through their tour, with one set recorded in Nashville just before the band started recording in 2009 (before Matt Vasquez of Delta Spirit even showed up), and the other recorded at SXSW the day after the Dawes/Deervana show at Lustre Pearl. (No wonder the guys weren't interested in my suggestion that they do one more late-nigh Middle Brother show that night…)
Get the whole set at Daytrotter.
Released a full year after the "Pumped up Kicks" single, Foster the People (a surprising favorite from SXSW) delivers Torches, an upbeat album made for the summer.
Pumped Up Kicks (The Knox Remix)
Dawes' new album Nothing is Wrong is out June 7th.
Dawes - Time Spent in Los Angeles
More: dawestheband.blogspot.com, YouTube
Photo: Michael Light via 20x200
Phosphorescent plays at the Red Palace on May 10th
Nothing Was Stolen (Love Me Foolishly)
At Death, A Proclamation (Live)
Photo: Simon Fernandez
Craig Finn live for Minneapolis Public Radio's Wits program (playing what are apparently "not Hold Steady songs")
More: Unified Scene, Minnesota Public Radio
Photo: Minnesota Public Radio